Aurelio Voltaire - BiTrektual (2012)
Artist:
Aurelio Voltaire
Album: BiTrektual
Country: USA
Style: Gothic / Dark Cabaret
Quality: 320 kbps
Size: 146 mb
Myspace

Tracklist:
1. Bitrektual (feat. Jason Charles Miller)
2. The Trouble (feat. Tribbles)
3. Screw the Ocampa (Bitrektual Version)
4. The Sexy Data Tango (Bitrektual Version)
5. The U.S.S. Make Shit Up (Bitrektual Version)
6. Poopin' On the Enterprise (a Monologue)
7. Worf's Revenge (Bitrektual Version)
8. Yoda (a Monologue)
9. Cantina (Bitrektual Version)
10. Damn You, George Lucas (A Monologue)
11. Docking Bay 94
12. It's Bigger On the Inside
13. Expendable
14. Bitrektual (feat. Robert Picardo)

Download: Uploaded | Rapidgator | Turbobit

Pre-listen "Voltaire - Bitrektual (feat. Jason Charles Miller)":
About Aurelio Voltaire: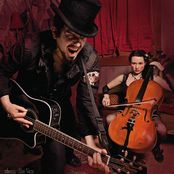 Voltaire is a name of at least three acts: 1) A mononym of Aurelio Voltaire Hernández (b. 1967, Havana, Cuba), a singer/songwriter whose music has its roots deeply embedded in European folk and also has influences from the gothic scene. He has also been directing commercials and animating short films for ten years, the best known of these are his Hieronymus Bosch-inspired station MTV IDs. Inspired by the films of Ray Harryhausen (Jason and the Argonauts
Read more on Last.fm
.
121,923

listeners

4,253,098

plays