Retractor - Retrieving Time (2012)
Artist:
Retractor
Album: Retrieving Time
Country: USA
Style: Industrial / Dark Electro
Quality: 320 kbps
Size: 136 mb
Facebook

Tracklist:
1. Retrieving Time
2. Hypnotize (v2)
3. Submarine Militia
4. I would Not Be Ruled
5. Justify War
6. We Still Alive
7. Beheaded (V Syndrome Mix)
8. Things To Belive
9. Through Time
10. All Childrens Go To Heaven (VG Re-edit Mix)
Pre-listen "Retractor - Retrieving Time":
About Retractor: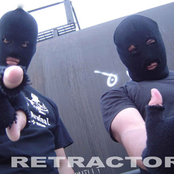 RETRACTOR's music represents the culmination of many influnces from French Electro, Aggrotech, Military Pop and Old School EBM. RETRACTOR is Milton C. Sanchez, AKA" Dj Hermonic ". RETRACTOR has co-worked and remixed songs for artist's Agonoize, Alien Produkt, Skoyz, Mechanical Horizon, Sero Overdose, Schattenschlag, Combicrist, Tom Wax, Supreme Court, Das Ich, Dawn of Ashes, Assemblage23, Psyclone Nine and Shnarph. 2010 begins a new path for RETRACTOR with the release of their new album " Genetic Perfection " on Morphklan Music
Read more on Last.fm
.
17,834

listeners

200,496

plays