Poisonblack - Lyijy (2013)
Artist:
Poisonblack
Album: Lyijy
Country: Finland
Style: Gothic Metal
Quality: VBR
Size: 105 mb
Facebook

Tracklist:
1. Home Is Where The Sty Is
2. Down The Ashes Rain
3. The Flavor Of The Month
4. The Absentee
5. Maybe Life Is Not For Everyone
6. Death By The Blues
7. The Halfway Bar
8. Them Walls
9. Blackholehead
10. Pull The Trigger
11. Elämän Kevät
Pre-listen "Poisonblack - Down The Ashes Rain":
About Poisonblack: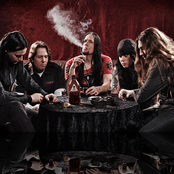 Poisonblack is a heavy metal band from Finland led by former Sentenced frontman Ville Laihiala. The band was founded in 2000 by Laihiala as a side project, in which he could focus on playing guitar. The band is currently comprised of bassist Antti Remes, drummer Tarmo Kanerva and keyboardist Marco Sneck, in addition to Laihiala. Poisonblack released it's first album, 'Escapextacy' in 2003, on which Charon singer Juha-Pekka Leppäluoto is featured on lead vocals.
Read more on Last.fm
.
107,359

listeners

4,433,198

plays