Nolongerhuman - Introvert (2013) [EP]
Artist:
Nolongerhuman
Album: Introvert
Country: USA
Style: Dark Electro / EBM
Quality: 320 kbps
Size: 103 mb
Myspace

Tracklist:
1. Disassembled Tears
2. The Death Hour (C-lekktor Remix)
3. The Death Hour (Touched by Stahlnebel & Black Selket)
4. The Death Hour (aktivehate Remix)
5. Memoirs
6. Lusus Naturae (Die Braut Remix)
7. Lusus Naturae (Reworked by Nie)
8. Lusus Naturae (Cold Therapy Remix)
Pre-listen "Nolongerhuman - Disassembled Tears":
About Nolongerhuman: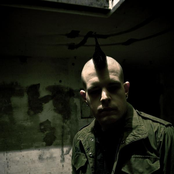 We are nolongerhuman, and this is only the beginning… nolongerhuman is the sole project of Clint Robertson. Starting in 2000, with a project called Varix, which focused on heavy electronics and Noise infused beats, Clint was quickly noticed and included in several compilations. 2004, furthering the nolongerhuman concept, several demo only recordings were released, and the development of what would become nolongerhuman's signature sound began emerging.
Read more on Last.fm
.
9,192

listeners

161,378

plays