Midnight Juggernauts - Uncanny Valley (2013)
Artist:
Midnight Juggernauts
Album: Uncanny Valley
Country: Australia
Style: Electronic / Indie / New Wave
Quality: 320 kbps
Size: 107 mb
Facebook

Tracklist:
1. HCL
2. Ballad of the War Machine
3. Memorium
4. Streets of Babylon
5. Sugar and Bullets
6. Master of Gold
7. Systematic
8. Deep Blue Lines
9. Another Land
10. Melodiya

Download: Uploaded

Pre-listen "Midnight Juggernauts - HCL":
About Midnight Juggernauts: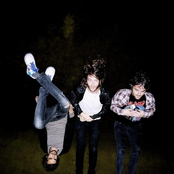 Midnight Juggernauts are an alternative dance/synth pop band which formed in Melbourne, Australia in 2004, They consist of Vincent Vendetta (vocals, keyboards), Andy Juggernaut, (bass, vocals) and Daniel Stricker (drums). They have been described by the American magazine "Rolling Stone" as "David Bowie if his Berlin Trilogy was a collaboration with Kraftwerk and Faust". So far, the band have released three albums "Dystopia" (2008), "The Crystal Axis" (2010) and "Uncanny Valley" (2013).
Read more on Last.fm
.
393,886

listeners

5,898,493

plays