HIM - Tears On Tape (2013) [Limited Edition]
Artist:
HIM
Album: Tears On Tape
Country: Finland
Style: Gothic Rock / Metal
Quality: 320 kbps
Size: 173 mb
Myspace

Tracklist:
1. Unleash The Red
2. All Lips Go Blue
3. Love Without Tears
4. I Will Be The End Of You
5. Tears On Tape
6. Into The Night
7. Hearts At War
8. Trapped In Autumn
9. No Love
10. Drawn & Quartered
11. Lucifer's Chorale
12. W.L.S.T.D.
13. Kiss The Void
14. Buried Alive By Love (Live in Studio Video)
15. The Kiss of Dawn (Live in Studio Video)
16. When Love and Death Embrace (Live in Studio Video)
17. Join Me (Live in Studio Video)
18. The Funeral of Hearts (Live in Studio Video)
19. Heartkiller (Live in Studio Video)
20. Wings of a Butterfly (Live in Studio Video)
Pre-listen "HIM - Love Without Tears":
About HIM: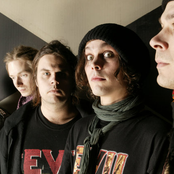 There are multiple artists with this name: 1) HIM is an alternative rock band from Finland. 2) HiM, a solo project put together in 1995 by Doug Scharin (drummer for June of 44, Rex, and Codeine). 3) HIM, acronym for "Hiromasa Ijichi Melodies," a Japanese group. 1) Formed in 1991 by vocalist Ville Valo, guitarist Mikko Lindström (Linde), and bassist Mikko Paananen(Mige). Today the band consists of the previously named as well as a drummer Mika Karppinen(Gas) and a keyboardist Janne Puurtinen(Burton).
Read more on Last.fm
.
991,098

listeners

55,995,967

plays