Funeral Suits - Lily Of The Valley (2012)
Artist:
Funeral Suits
Album: Lily Of The Valley
Country: Ireland
Style: Indie / Electropop
Quality: 320 kbps
Size: 106 mb
Myspace

Tracklist:
1. Mary's Revenge
2. Colour Fade
3. Health
4. Hands Down By Your Side
5. All Those Friendly People
6. We Only Attack Ourselves
7. Adventures Misadventures
8. Stars Are Spaceships
9. Florida
10. Machines Too
11. I Still Love the High
Pre-listen "Funeral Suits - Mary's Revenge":
About Funeral Suits: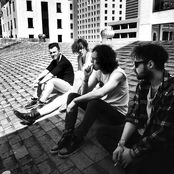 Funeral Suits are a 4-piece alternative rock band from Ireland. Consisting of Brian James, Mik McKeogh, Dar Grant and Greg McCarthy, the band formed in 2008. A shared love of epic, distorted guitars, blistering harmonius pop, art rock and electronica led to the band spending the best part of two years holed up in a disused office space in deepest North County Dublin, writing, rehearsing and at times venturing out to play as special guests for Franz Ferdinand, Passion Pit, The Maccabees, Local Natives amongst other.
Read more on Last.fm
.
75,259

listeners

584,797

plays