Disharmony - Room 78 (2013)
Artist:
Disharmony
Album: Room 78
Country: Slovakia
Style: Industrial / IDM
Quality: 320 kbps
Size: 143 mb
Myspace

Tracklist:
1. Room 78
2. Blackhole
3. Lifelines
4. Empty
5. Falling Starts (feat. Ish)
6. Trauma
7. Lights Of Us
8. In The Shadow
9. Under Control
10. Reactor
11. You Near Me (feat. Fractured)
12. End Of Days
Pre-listen "Disharmony - Room 78":
About Disharmony: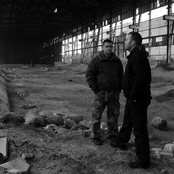 There are a number of artist by that name 1) http://disharmony.aliens.sk/ Side projects: Oxyd & Headdreamer Disharmony is a project, that has originated during the summer of 2001 and after a smaller experimentation and deeper exploring and searching of themselves has collected material, that complexy presents confessions and musical feelings of what's hiding in both protagonists. Minimalisthicaly sounding surfaces wrapped with harmonical surfaces and mysterious atmospheres and characteristical marks of this Slovak project
Read more on Last.fm
.
6,335

listeners

124,284

plays