De/Vision - Kamikaze (2012) [Single]
Artist:
De/Vision
Album: Kamikaze
Country: Germany
Style: Synthpop
Quality: VBR
Size: 54 mb
Myspace

Tracklist:
1. Kamikaze (Radio Edit)
2. Kamikaze (Club Version)
3. Bipolar (12" Extended Mix)
4. Stargazer (Genetic Makeup)
Pre-listen "De/Vision - Kamikaze (Radio Edit)":
About De/Vision: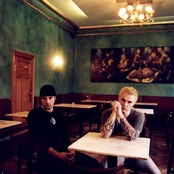 De/Vision is a German synthpop musical group. The band started as a quartet consisting of Thomas Adam, Steffen Keth, Stefan Blender, and Markus Ganssert. They formed the band in 1988. The name De/Vision is a play on words. The majority of the band's lyrics are in English, but they have had some songs in German. Markus left the band in 2000. In the same year Steffen started a side project as the vocalists with Green Court, called 'Green Court featuring De/Vision'.
Read more on Last.fm
.
174,290

listeners

4,363,240

plays