Deep Forest - Deep Africa (2013)
Artist:
Deep Forest
Album: Deep Africa
Country: France
Style: New Age / Ambient / Electronic
Quality: 320 kbps
Size: 136 mb
Facebook

Tracklist:
1. Amber Opening
2. Dub Africa
3. Mosika
4. Yelele
5. Bedi
6. Atali Wowo
7. Wasis
8. Zoulawa
9. Ho Mambo
10. Alaake
11. Lomo
12. How Long
13. Tiko
14. Mosika Ending
Pre-listen "Deep Forest - Amber Opening":
About Deep Forest: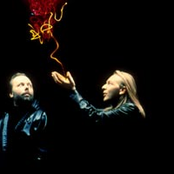 Deep Forest is a musical group consisting of two French musicians, Michel Sanchez and Eric Mouquet. They compose a new kind of world music, sometimes called ethnic electronica, mixing ethnic with electronic sounds and dance beats or chillout beats. Their sound has been described as an "ethno-introspective ambient world music". They were nominated for a Grammy Award in 1994 for Best World Music Album, and in 1995 they won the Award for the album Boheme.
Read more on Last.fm
.
390,692

listeners

6,224,150

plays