Aesthetic Perfection - Antibody (2013) [EP]
Artist:
Aesthetic Perfection
Album: Antibody
Country: USA
Style: EBM / Electro-Industrial
Quality: VBR
Size: 67 mb
Myspace

Tracklist:
1. Antibody (Single Version)
2. Antibody (Elliott Berlin Remix)
3. Antibody (Deathproof Remix)
4. Antibody (Surgyn Remix)
5. Antibody (Deadbeat Remix)
6. Antibody (Vanity Police Remix)
7. Antibody (Stiff Valentine Remix)
8. Damn Good Rhythm

Download: Uploaded | Rapidgator

Pre-listen "Aesthetic Perfection - Antibody (Single Version)":
About Aesthetic Perfection: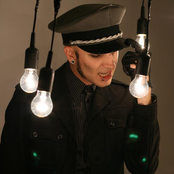 Electro / Alternative Daniel Graves: All music, vocals and lyrics. Tim Van Horn: Live Drums Elliot Berlin: Live Keyboards (EU) It is not a comment on society. It is not a forum for philosophy. It is not your new voice. It is not a revolution. Without form, without ego or intention, Aesthetic Perfection is incredibly pretentious. Influences are combined, songs composed. Audio is recorded, edited, arranged and mixed. Music designed without purpose.
Read more on Last.fm
.
65,551

listeners

2,570,848

plays